Welcome to Part 5's Chapter 2 of Arise and Shine. Today, Bettie is introducing us to the freewill offering of purple thread: royal compassion. Join us in the coming days for our personal free will offerings in Christ Jesus, praising Him for His compassion to us.
Take a sacred offering for the Lord. Let those with generous hearts present the following gifts to the Lord:
6 blue, purple, and scarlet thread;

Exodus 35:5-6
Is it possible to be poured out and yet be more full than before?
Is there a fire that quenches thirsting?
These are questions that have haunted me. The first one was a longing that rested deep in my heart throughout so many years of serving. After giving and giving and serving and serving, I would find myself lying depleted at the feet of Jesus. I let Him pour His heart more deeply into mine, and then I would return to serving. Inevitably, the cycle would begin again. Fill up, serve, deplete. Fill up, serve, deplete … Something was missing.
And then the fires began. In my joints, in my aching bones, and in my searing soul, the fires brought a thirsting I did not know I was capable of feeling. How long until this dry season would be changed to life giving rain?
Instead of being filled, I was emptied.
Instead of being relieved, the heat became hotter.
And in the middle of the weak and weary days, God spoke a word that felt impossible for me: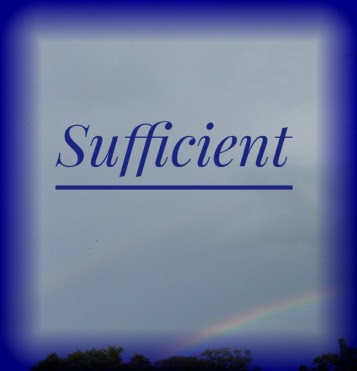 The point was not lost on me. Of course I was and am INsufficient. There is only ONE who can meet that title, and in the listening He began to uncover more of His all-sufficient grace than I ever dreamed possible.
"But he said to me, 'My grace is sufficient for you, for my power is made perfect in weakness.' Therefore I will boast all the more gladly about my weaknesses, so that Christ's power may rest on me." 2 Corinthians 12:9 NIV
He carried me when I thought I could not stand. He kept me resting when I thought the weary rest-less-ness would consume me. And in it all, He brought me to His feet, just to enjoy HIM there. There were no pressures to fill up just so that serving could deplete the storehouse once again.
As my Rheumatoid Disease progressed, and it became apparent that the medications were not bringing remission, and it became apparent that my weaknesses could not be hidden any longer, I heard those questions being asked of me again. HE was asking me,
Is it possible to be poured out and yet be more full than before?
Is there a fire that quenches thirsting?
Along with the questions, He began to stir a prompting for the word Compassion. The Scripture accompanying that word was filled with its own set of questions–questions that the Lord had asked Himself:
"How can I give you up, Ephraim?
How can I hand you over, Israel?
How can I treat you like Admah?
How can I make you like Zeboyim?
My heart is changed within me;
all my compassion is aroused. Hosea 11:8 NIV
At a time in history when God's own people had turned away from Him, when He had every right to reject and leave them, His compassions were stirred within Him. I turned to the Commentaries on BibleHub's site for more thoughts on these verses in Hosea. Matthew Henry's Concise Commentary expresses it this way:
Man's compassions are nothing in comparison with the tender mercies of our God, whose thoughts and ways, in receiving returning sinners, are as much above ours as heaven is above the earth.
and further,
Holy trembling at the word of Christ will draw us to him, not drive us from him, the children tremble, and flee to him. And all that come at the gospel call, shall have a place and a name in the gospel church.
And just what does that compassion of Christ look like? He was rejected and had every right to leave us to ourselves. Yet He looked on us, and His compassions–those same compassions of His Father–were stirred within Him:
He had compassion on them, because they were harassed and helpless, like sheep without a shepherd.

Matthew 9:36 NIV
They put a purple robe on him, then twisted together a crown of thorns and set it on him. And they began to call out to him, "Hail, King of the Jews.

Mark 15:17-18
The Oxford Dictionary says the origin of the word compassion is derived from two words: "suffer with." And I began to see a connection between those two words, "sufficient" and "compassion." Over these last few years, while feeling the depth of my own weaknesses, Jesus has asked me to be willing to join with Him in the fellowship of His suffering. He began to show me the depth of HIS sufficiency for me last year. He began to work in me the longing to "boast in my weaknesses, so that the power of Christ might rest upon me all the stronger."
In the midst of that longing I heard a whisper, "Are you willing to be broken for Me, as I was broken for you?"
Can I do that? Can I begin walking down this road of compassion, rejoicing from within my own brokenness? Can I say that I want to taste compassion, knowing that it means to suffer alongside?
Mercy River


Oh Lord Jesus,

In my weakness returned

In my weary o'rwhelmed

I hear my heart crying, NO MORE!

Please can't I stay here, on the shore?

 

Oh Jesus You cried,

In this sorrowful cup rejoined

In this painful drink o'rwhelmed

I heard Your lips crying, Take from Me!

Yet Not Your will, bore Father's freely.

 

So Come My Lord,

In Your calling returned

In Your way o'rwhelmed

I fall in Your river, MERCY plunging!

In Your arms of Love, Compassion holding.
While I was looking for the answers to those two original questions, He asked me to praise Him with ALL of my inmost being, EVERY cell, even the broken and weak cells.
Praise the Lord, my soul;
all my inmost being, praise his holy name.
Praise the Lord, my soul,
and forget not all his benefits—
who forgives all your sins
and heals all your diseases,
who redeems your life from the pit
and crowns you with love and compassion, Psalm 103:1-5
The ONE who asks the questions is forever faithful. I can trust Him in these places of mystery, because the ONE who came down from Heaven's Royalty to suffer alongside of us, is the fire burning within my soul now.
He is the flame of the Holy Spirit lighting up our night sky, declaring to His broken and weary Body: come and taste of Christ's compassions, of His tender mercies, of His comfort like no other.
And I will ask the Father, and he will give you another Helper, to be with you forever, even the Spirit of truth, whom the world cannot receive, because it neither sees him nor knows him. You know him, for he dwells with you and will be in you. "I will not leave you as orphans; I will come to you. Yet a little while and the world will see me no more, but you will see me. Because I live, you also will live. In that day you will know that I am in my Father, and you in me, and I in you.

John 14:16-20 (ESV)
But you are a chosen race, a royal priesthood, a holy nation, a people for his own possession, that you may proclaim the excellencies of him who called you out of darkness into his marvelous light. Once you were not a people, but now you are God's people; once you had not received mercy, but now you have received mercy.

1 Peter 2:9-10 (ESV)
I can praise His name with everything within me because it is HIS compassion gifted to me–in me–through the Royal blood of Jesus now pulsing through my veins. It is HIS compassion now freely pouring out of me upon other thirsty hearts and souls through Christ, the hope of glory in me.
Grace and peace to you from him who is, and who was, and who is to come, and from the seven spirits before his throne, and from Jesus Christ, who is the faithful witness, the firstborn from the dead, and the ruler of the kings of the earth.

1 John 1:4-5
Would you pray with me today?
Dear Heavenly Father,
Thank You for showering us with compassion. Before we even understood that we needed it, You met us and prepared the way for us to return to You.
Forgive us for trying to manage the serving and the giving on our own. Forgive us for looking for relief from the heat of pain in our own ways.
We come trembling before You now, and acknowledge that we are too weak to find it in ourselves to say "yes" to join You in Your suffering. Oh but thank You for being the all-sufficient One who would carry us into Your own heart of compassion.
Thank You that Your Royal life-blood covers us, and now flows within our veins. We lift up our praises to You now. Our every cell, even the weak and diseased, cries out to worship Your greatness here. There is NO ONE like You, our great King and Savior.
As we worship You here in our brokenness, let Your light be seen in us. Declare Your compassion in and through us, LORD. Clothe us, Your children, in the royal thread of Jesus. Make us One.
In the Name of Your Son, Jesus, we pray,
Amen.
For this is a gracious thing, when, mindful of God, one endures sorrows while suffering unjustly. For what credit is it if, when you sin and are beaten for it, you endure? But if when you do good and suffer for it you endure, this is a gracious thing in the sight of God. For to this you have been called, because Christ also suffered for you, leaving you an example, so that you might follow in his steps. He committed no sin, neither was deceit found in his mouth. When he was reviled, he did not revile in return; when he suffered, he did not threaten, but continued entrusting himself to him who judges justly.

1 Peter 2:19 – 23 (ESV)
Day 6: I Lift Up My Whole Heart